I was born and raised in Dallas, Texas. In 1979, I graduated Cum Laude from Duke University with a Bachelor of Arts degree in Psychology. After working for four years in health continuing education, I decided to expand my knowledge and pursue my desire to help others achieve self-satisfaction through medicine.
I entered medical school in 1981 at Baylor College of Medicine in Houston, Texas where I graduated Cum Laude and was a member of the prestigious Alpha Omega Alpha, Honor Medical Society. In 1985, upon completion of my medical degree, I began a residency in General Surgery at the University of Texas Health Science Center in Houston, Texas. I soon realized the field of Plastic Surgery was the area of medicine where I could best utilize my abilities and talent to restore quality of life to others. In 1988, I entered the Plastic Surgery residency program at Baylor College of Medicine in Houston, Texas, which included a microvascular research fellowship with the Department of Plastic Surgery.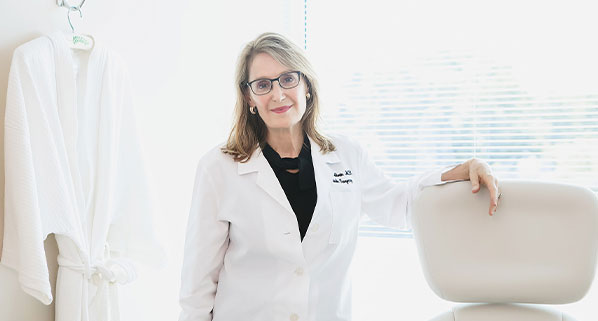 I was awarded a Fellowship in Clinical Microvascular Surgery at The University of Texas M.D. Anderson Cancer Center, Houston, Texas in 1991. Upon completion of this fellowship, I was invited to join the faculty at U.T. M.D. Anderson as an Assistant Professor in the Department of Plastic and Reconstructive Surgery. My specialty was reconstruction following ablative cancer resections. This included breast, head and neck, extremity and trunk reconstruction procedures.
In 1997, I embarked on an independent practice by forming Consultants in Plastic Surgery. This private practice based in the Texas Medical Center of Houston, Texas permits me to focus on cosmetic breast, body and facial procedures along with breast reconstruction. The surgical cosmetic procedures I perform consists of Rhytidectomy and Neck Lift, Blepharoplasty, Breast Augmentation, Breast Reduction, Breast Lift, Breast Implant Exchange, Abdominoplasty and Liposuction. The non-invasive procedures I offer includes injectable dermal fillers such as Restylane and Juvederm, Botox Cosmetic and SkinCeuticals Glycolic Peels. The SkinCeuticals product line is also available for purchase in the office.
Having authored several professional articles in referred journals as well as contributed chapters to numerous textbooks, Dr. Baldwin remains a highly regarded authority on breast surgery and body aesthetics. In recognition of her expertise and knowledge, she is frequently invited to speak to community and professional organizations. If you would like a private consultation with Dr. Bonnie Baldwin please call her office at 713-791-1975.