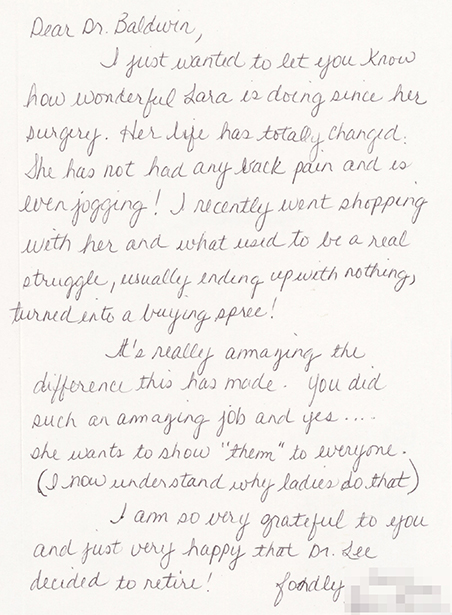 Breast Cosmetic .
11.12.2015
Dear Dr. Baldwin,
I just wanted to let you know how wonderful my daughter is doing since her surgery. Her life has totally changed. She has not had any back pain and is even jogging! I recently went shopping with her and what used to be a real struggle, usually ending up with nothing, turned into a buying spree! It's really amazing the difference this has made. You did an amazing job and yes…she wants to show 'them' to everyone (I now understand why ladies do that). I am so very grateful to you!
P. H., Houston, TX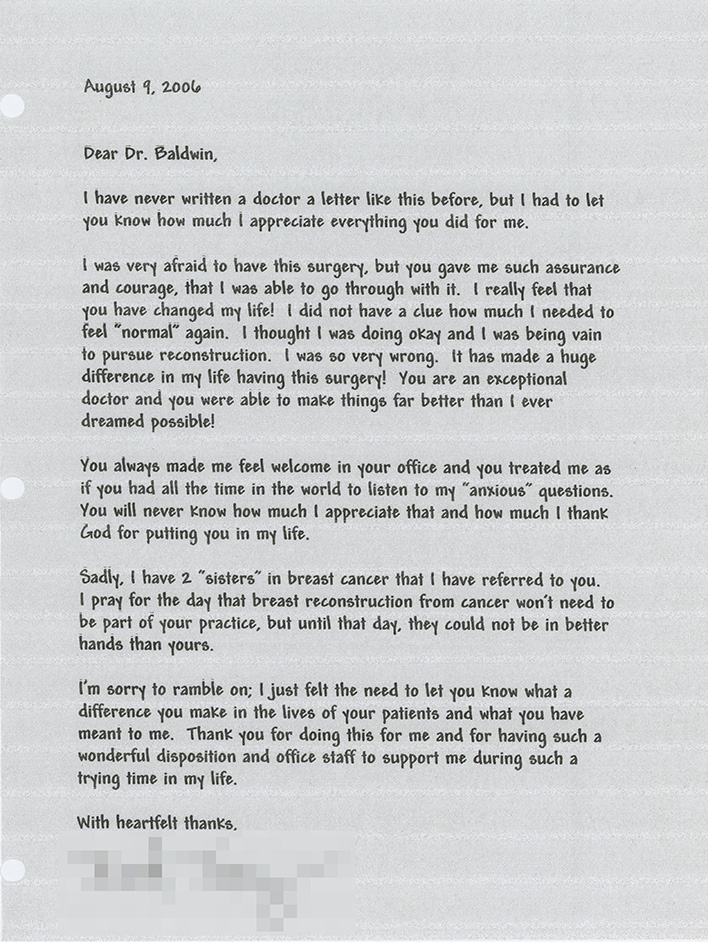 Breast Reconstructive .
10.20.2015
August 9, 2006
Dear Dr. Baldwin,
I have never written a doctor a letter like this before, but I had to let you know how much I appreciate everything you did for me.
I was very afraid to have this surgery, but you gave me such assurance and courage, that I was able to go through with it. I really feel that you have changed my life! I did not have a clue how much I needed to feel "normal" again. I thought I was doing okay and I was being vain to pursue reconstruction. I was so very wrong. It has made a huge difference in my life having this surgery! You are an exceptional doctor and you were able to make things far better than I ever dreamed possible!
You always made me feel welcome in your office and you treated me as if you had all the time in the world to listen to my "anxious" questions. You will never know how much I appreciate that and how much I thank God for putting you in my life.
Sadly, I have 2 "sisters" in breast cancer that I have referred to you. I pray for the day that breast reconstruction from cancer won't need to be part of your practice, but until that day, they could not be in better hands than yours.
I'm sorry to ramble on; I just felt the need to let you know what a difference you make in the lives of your patients and what you have meant to me. Thank you for doing this for me  and for having such a wonderful disposition and office staff to support me during such a trying time in my life.
With heartfelt thanks,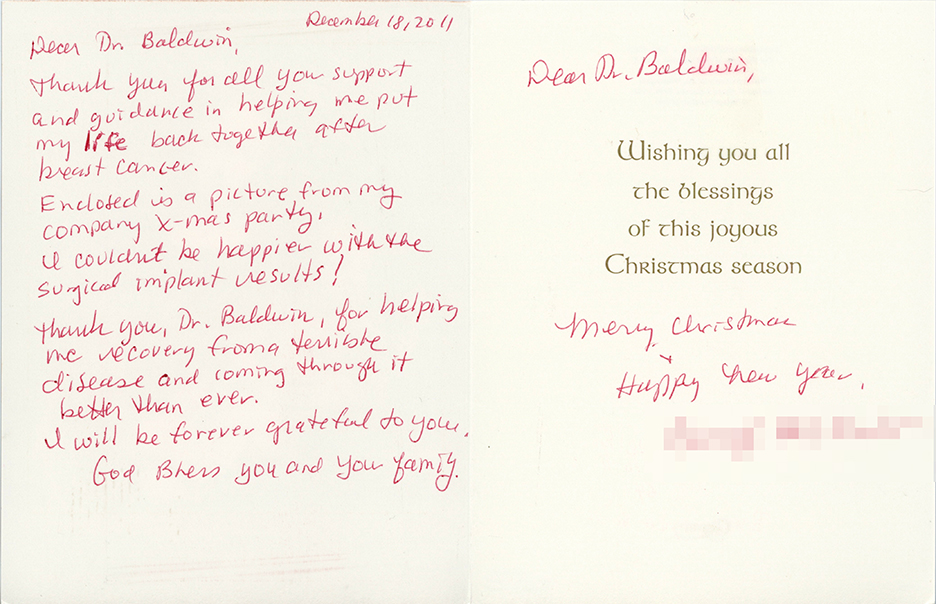 Breast Reconstructive .
10.20.2015
December 18, 2011
Dear Dr. Baldwin,
Thank you for all your support and guidance in helping me put my life back together after breast cancer.
Enclosed is a picture from my company x-mas party, I couldn't be happier with the surgical implant results!
Thank you, Dr. Baldwin, for helping my recovery from a terrible disease and coming through it better than ever. I will be forever grateful to you.
God bless you and your family.
Dear Dr. Baldwin,
Merry Christmas and Happy New Year,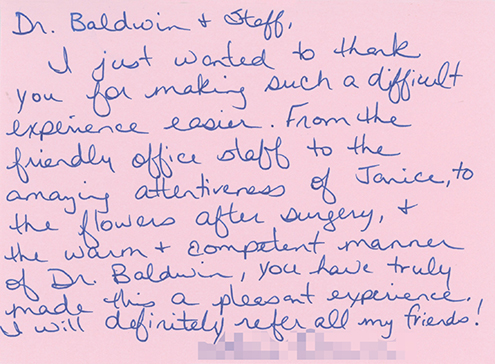 Breast Reconstructive .
10.20.2015
Dr. Baldwin & Staff,
I just wanted to thank you for making such a difficult experience easier. From the friendly office staff to the amazing attentiveness of Janice, to the flowers after the surgery, & the warm and competent manner of Dr. Baldwin, you have truly made this a pleasant experience. I will definitely refer all of my friends!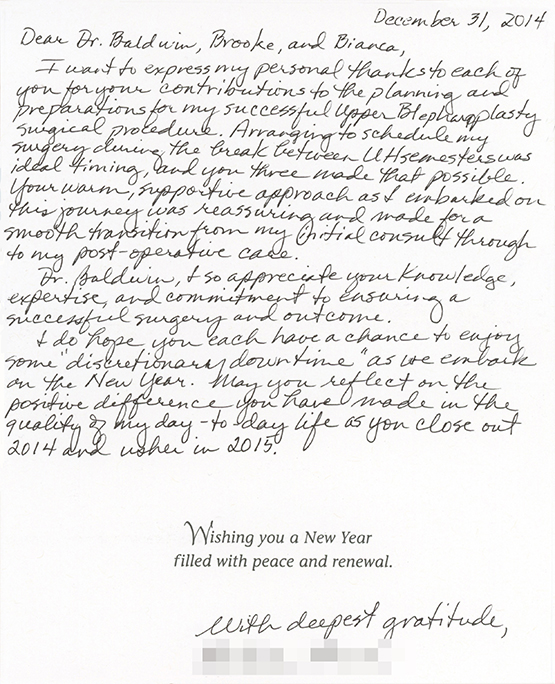 Face Cosmetic .
12.31.2014
Dear Dr. Baldwin, Brooke, and Bianca,
I want to express my personal thanks to each of you for your contributions to the planning and preparations for my successful upper blepharoplasty surgical procedure. Arranging to schedule my surgery during  the break between UH semester was ideal timing, and you three made that possible. Your warm, supportive approach as I embarked on this journey was reassuring and made for a smooth transition from my initial consult through to my post-operative care.
Dr. Baldwin, I so appreciate your knowledge, expertise, and commitment to ensuring a successful surgery and outcome.
I do hope you each have a chance to enjoy some "discretionary downtime" as we embark on the New Year. May you reflect on the positive difference you have made in the quality of my day-to-day life as you close out 2014 and usher in 2015.
Wishing you a New Year filled with peace and renewal.
With deepest gratitude,