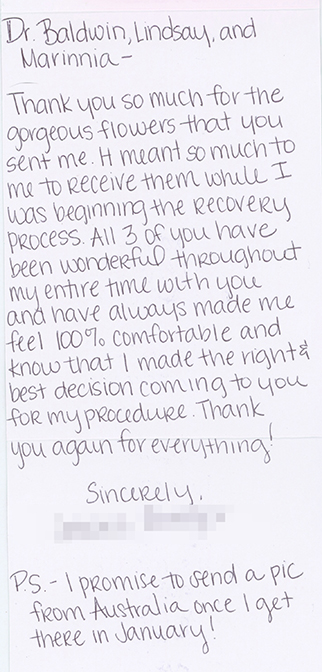 Cosmetic Body .
11.12.2015
Dr. Baldwin, Lindsay and Marinnia,
Thank you so much for the gorgeous flowers that you sent me. It meant so much to me to receive them while I was beginning the recovery process. All 3 of you have been worderful throughout my entire time with you and have always made me feel 100% comfortable and know that I made the right best decision coming to you for my procedure. Thank you again for everything!
Sincerely,
P.S. – I promise to send a pic from Australia once I get there in January!
Breast Reconstructive .
11.12.2015
Dr. Baldwin is Amazing! In my particular case she helped me in redirecting what was a traumatic experience. Once my Breast Cancer was diagnosed, she acted as an educational guide as well as an artist to resculpt my body into a work of art that was then better than it had ever been; at the same time she held my hand and offered me hope in my journey with cancer.
In street-speak: "She's the bomb"!
R.T., Houston, TX Face Cosmetic .
11.12.2015
Thank you for your friendliness and outstanding care. Your attention to my concerns, your overall thoughtfulness and procedures end results have made the experience an uplifting one.
N. A., Houston, TX Cosmetic Body .
11.12.2015
I want to thank you deeply. You have made a big difference in my life
T.A., Pasadena, TX Cosmetic Body .
11.12.2015
My self-esteem is at an all time high. I have no problem wearing a bathing suit. What a wonderful feeling.
D. L., Houston, TX