Breast Cosmetic .
11.20.2015
I have already recommended you to several people. I so appreciate the time Dr. Baldwin spent on the phone with me assuring that I understood and was comfortable with my implant size. Lindsey was/is always professional, smiling and comforting.
I like the feel of your office setting. I never feel like it's a factory and I'm just a number. The personal feeling, like I'm the only patient you have that day, means a lot. Thank you and your staff for everything.
Breast Cosmetic .
11.20.2015
Excellent communication and information. Really listened to what I wanted and am thrilled with the results. Thank you!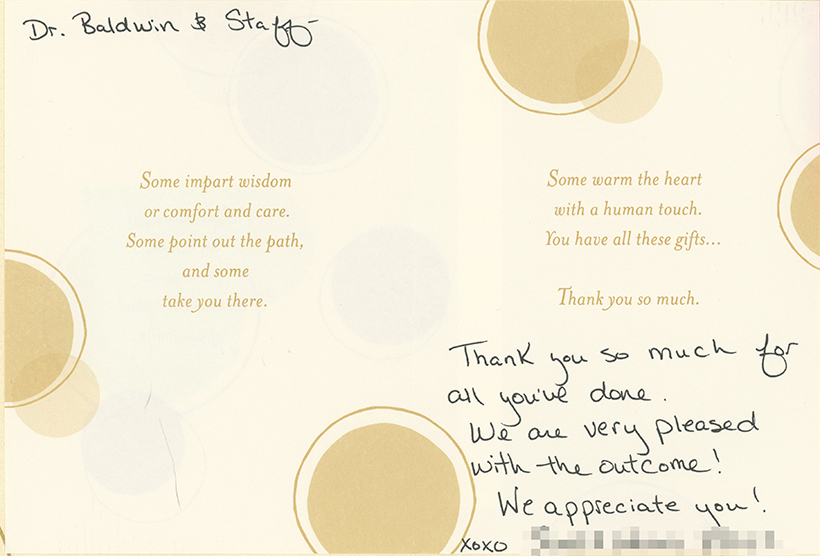 Breast Cosmetic .
11.23.2015
Dr. Baldwin & Staff –
Thank you so much for all you've done. We are very pleased with the outcome! We appreciate you!
xoxo

Breast Cosmetic .
11.20.2015
I was never afraid of having the surgery after my initial appointment because Dr. Baldwin put ALL of my fears at ease. I have already referred one person and will continue to do so.
Thank you!!

Cosmetic Body .
11.20.2015
Without hesitation the best doctor's office experience I've had. I would recommend to any friend or relative who had an interest in plastic surgery.  You all have exceeded my expectations!  Thank you!
In fact, I think it's pretty ironic that you are the office least in need of self-evaluation!