Implant Exchange .
11.16.2018
Loved Dr. Baldwin and my results. Exceptional staff and environment. Great experience!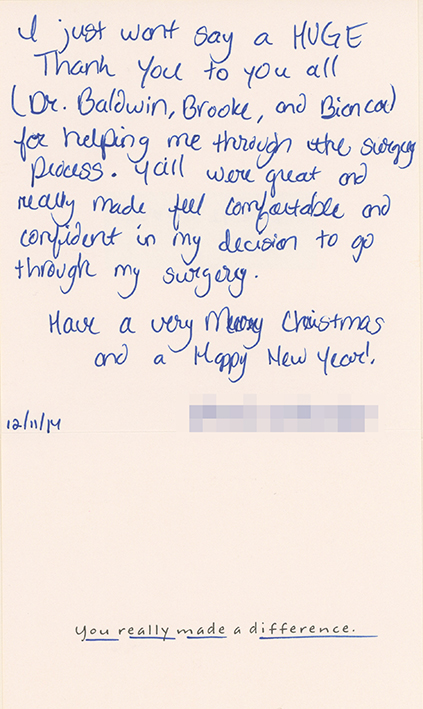 Cosmetic Body .
11.20.2015
I just want to say a HUGE thank you to you all (Dr. Baldwin, Brooke, and Bianca) for helping me through the surgery process. Ya'll  were great and really made me feel comfortable and confident in my decision to go through my surgery.
Have a very Merry Christmas and a Happy New Year!
12/11/14
You really made a difference.
Breast Cosmetic .
11.16.2018
Excellent care and procedure was perfect! Thank you!

Implant Exchange .
11.16.2018
This was my 3rd breast augmentation so I thought I knew the "routine". Dr. Baldwin + her stuff totally surpassed my previous experiences. We have been amazed by the personal care + attention received.
Abdominoplasty .
09.20.2017
The thought of plastic surgery was so anxiety provoking I put it off for several years. I cannot imagine having had a better experience, receiving better care or a better final result. I am so happy I chose Dr. Baldwin! Best doctor ever!!
C.W.