Cosmetic Body
/ 11.20.2015
Without hesitation the best doctor's office experience I've had. I would recommend to any friend or relative who had an interest in plastic surgery.  You all have exceeded my expectations!  Thank you!
In fact, I think it's pretty ironic that you are the office least in need of self-evaluation!

Cosmetic Body
/ 11.20.2015
Dr. Baldwin and her staff always answer all of my questions and I never feel like my appointments are rushed in any way.
This is my second procedure so it's obvious that I think you are an excellent Dr. & Staff.

Cosmetic Body
/ 11.20.2015
Dr. Baldwin is an excellent doctor who gave me confidence from the start! All the details to my surgery were explained in detail. Definitely one of the best decisions of my life!
Thanks to all the great staff!
Face Cosmetic
/ 11.18.2015
Dr. Baldwin
I  
my lips
they are beautiful!
Thank You
Thank You
Thank You
Thank You
4-15-04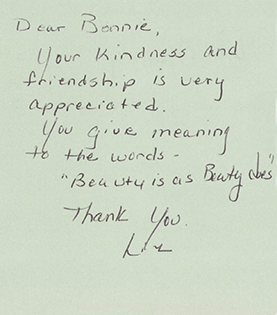 Face Cosmetic
/ 11.18.2015
Dear Bonnie,
Your kindness and friendship is very appreciated. You give meaning to the words – "Beauty is as Beauty does"
Thank you