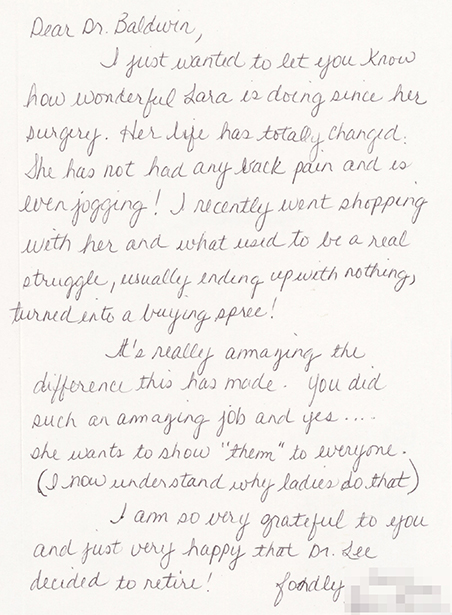 Breast Cosmetic .
11.12.2015
Dear Dr. Baldwin,
I just wanted to let you know how wonderful my daughter is doing since her surgery. Her life has totally changed. She has not had any back pain and is even jogging! I recently went shopping with her and what used to be a real struggle, usually ending up with nothing, turned into a buying spree! It's really amazing the difference this has made. You did an amazing job and yes…she wants to show 'them' to everyone (I now understand why ladies do that). I am so very grateful to you!
P. H., Houston, TX
Abdominoplasty .
11.16.2018
The thought of plastic surgery was so anxiety provoking I put it off for several years. I cannot imagine having a better experience, receiving better care or a better final result. I am so happy I chose Dr. Baldwin! Best doctor ever!!
Breast Reconstructive .
11.16.2018
I'm extremely happy with my outcome and the professinoalism of Dr. Baldwin + all the staff! Great all the way around!

Breast Reconstructive .
11.16.2018
Dr. Baldwin's practice from the time you enter her office till the time you leave is top notch!
Breast Cosmetic .
11.16.2018
My results are perfect & Dr. Baldwin always spent a lot of time with me. All of the staff made me feel so comfortable throughout the entire procedure.