Breast Cosmetic .
11.20.2015
I have already recommended you to several people. I so appreciate the time Dr. Baldwin spent on the phone with me assuring that I understood and was comfortable with my implant size. Lindsey was/is always professional, smiling and comforting.
I like the feel of your office setting. I never feel like it's a factory and I'm just a number. The personal feeling, like I'm the only patient you have that day, means a lot. Thank you and your staff for everything.
Breast Cosmetic .
11.20.2015
Excellent communication and information. Really listened to what I wanted and am thrilled with the results. Thank you!

Breast Cosmetic .
11.20.2015
I was never afraid of having the surgery after my initial appointment because Dr. Baldwin put ALL of my fears at ease. I have already referred one person and will continue to do so.
Thank you!!
Breast Cosmetic .
11.20.2015
Dear Dr. Baldwin & all the girls!
I just wanted to write you and tell you a long overdue thank you for everything you all did for me last year. It has been a life changing experience to say the least! If you ever need anything or if I can do anything for you, please let me know!
Regards!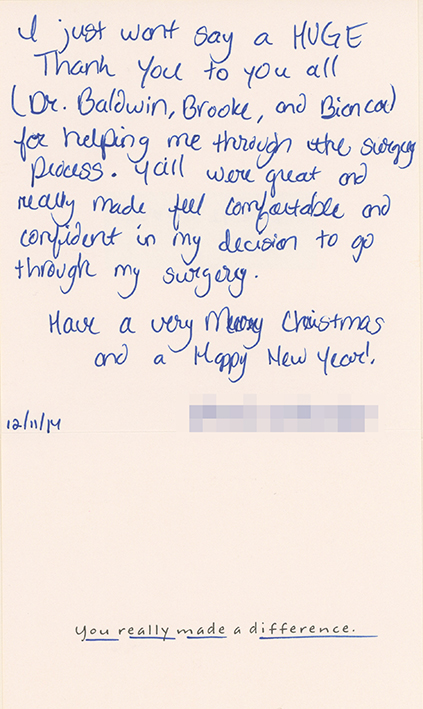 Cosmetic Body .
11.20.2015
I just want to say a HUGE thank you to you all (Dr. Baldwin, Brooke, and Bianca) for helping me through the surgery process. Ya'll  were great and really made me feel comfortable and confident in my decision to go through my surgery.
Have a very Merry Christmas and a Happy New Year!
12/11/14
You really made a difference.