Implant Exchange .
07.31.2020
"This was my 3rd breast augmentation so I thought I knew the 'routine.' Dr. Baldwin & her staff have totally surpassed my previous experiences. We have been amazed by the personal care & attention received. No comparison to detail, follow-ups, and visits with Dr. Baldwin. She is AWESOME!"
Face Cosmetic .
07.31.2020
"Dear Dr. Baldwin,
I want to thank you for helping me with my situation. My first impression of you was not just a brilliant doctor, but a sincere, caring, kind person. You were honest and assured me it would be okay. It was all of that and more. Thank you for the beautiful arrangement and your care for me."

Cosmetic Body . Face Cosmetic .
07.31.2020
"I am delighted with my outcome and the ease of my recovery which I attribute to Dr Baldwin's meticulous care"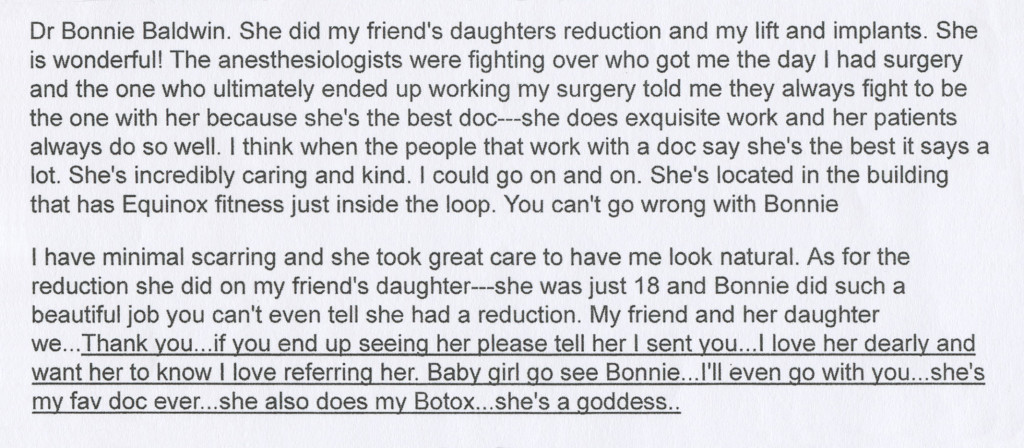 Breast Cosmetic .
07.31.2020
"Dr Bonnie Baldwin. She did my friend's daughters reduction and my lift and implants. She is wonderful! The anesthesiologists were fighting over who got me the day I had surgery and the one who ultimately ended up working my surgery told me they always fight to be the one with her because she's the best doc—she does exquisite work and her patients always do so well. I think when the people the work with a doc say she's the best it says a lot. She's incredibly caring and kind. I could go on and on. She's located in the building that has Equinox fitness just inside the loop. You can't go wrong with Bonnie
I have minimal scarring and she took great care to have me look natural. As for the reduction she did on my friend's daughter—she was just 18 and Bonnie did such a beautiful job you can't even tell she had a reduction. My friend and her daughter we… Thank you… if you end up seeing her please tell her I sent you… I love her dearly and want her to know I love referring her. Baby girl go see Bonnie… I'll even go with you… she's my fav doc ever… she also does my Botox… she's a goddess…"
Breast Cosmetic .
07.31.2020
"Dear Dr. Baldwin,
I am so thankful for you!
As you know, I was terrified about replacing my breast implants. The thought of anesthesia and recovery pain gave me great anxiety.
You were always so patient and reassuring and answered every one of my concerns. With each appointment, you made me feel like I was your only care for the day… what an amazing gift!
As I am approaching my third month post surgery, my breasts are more beautiful than I ever could have imagined, and I have peace of mind knowing my textured implants are gone.
You are such a gentle, kind, extremely talented physician, and I am so great for YOU!"