 Face Cosmetic .
08.08.2017
In my mid-60's I began to notice a lot of hanging skin under my chin. I was horrified. I used to talk about people who had cosmetic surgery and how bad they looked and how could they do that. My dear friend suggested that I contact Dr. Baldwin. As soon as I met with and started talking with Dr. Baldwin, I knew she was the one. She listened intently to what I wanted and was so positive and caring that I knew she was the surgeon to help me out. Our conversation was about my needs and she heard me loud and clear. I then started on my homework and journey to a modified neck lift. I cannot tell you how great it turned out and how wonderful her surgery team was and how kind Dr. Baldwin was. I was so lucky to have her as my surgeon and I consider her a dear person who is laser focused on doing a perfect job. I now have a jawline and a pretty neck like I used to have. Most people would not have a clue that I had any work done. I am SO happy to look at my profile in the mirror and once again feel so comfortable about wearing my hair on top of my head. I cannot say enough about Dr. Baldwin, she is here to help her patients feel better about themselves. If you are considering any kind of cosmetic surgery I certainly would put Dr. Baldwin at the top of your list of surgeons.
Anomymous Breast Cosmetic . Breast Reconstructive . Cosmetic Body . Face Cosmetic .
08.08.2017
Dr. Baldwin and the whole staff are so friendly and caring. They do everything they can to make your whole experience easy. I have recommended Dr. Baldwin to four of my friends. They asked for her name after seeing my work and hearing about my experience.
B.P. Breast Cosmetic . Breast Reconstructive . Cosmetic Body . Face Cosmetic .
08.08.2017
I could not be happier with the outcome of my procedure and the professionalism of the Dr. and staff. I will refer her every chance I get.
P.H. Face Cosmetic .
11.12.2015
Thank you for your friendliness and outstanding care. Your attention to my concerns, your overall thoughtfulness and procedures end results have made the experience an uplifting one.
N. A., Houston, TX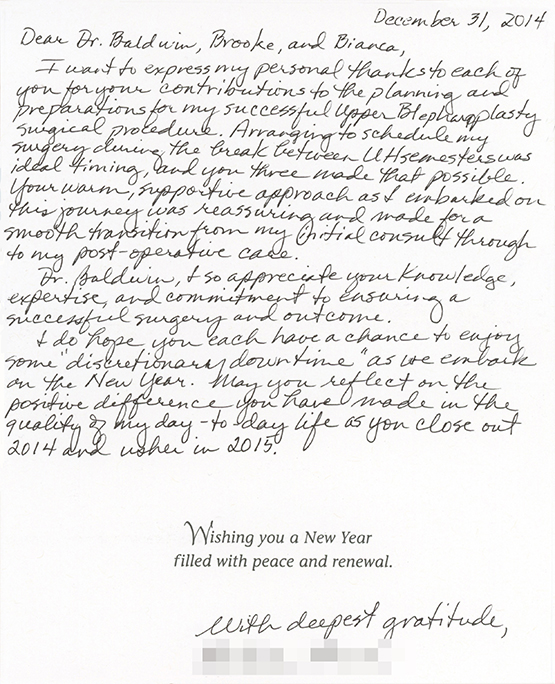 Face Cosmetic .
12.31.2014
Dear Dr. Baldwin, Brooke, and Bianca,
I want to express my personal thanks to each of you for your contributions to the planning and preparations for my successful upper blepharoplasty surgical procedure. Arranging to schedule my surgery during  the break between UH semester was ideal timing, and you three made that possible. Your warm, supportive approach as I embarked on this journey was reassuring and made for a smooth transition from my initial consult through to my post-operative care.
Dr. Baldwin, I so appreciate your knowledge, expertise, and commitment to ensuring a successful surgery and outcome.
I do hope you each have a chance to enjoy some "discretionary downtime" as we embark on the New Year. May you reflect on the positive difference you have made in the quality of my day-to-day life as you close out 2014 and usher in 2015.
Wishing you a New Year filled with peace and renewal.
With deepest gratitude,