 Face Cosmetic .
11.12.2015
Thank you for your friendliness and outstanding care. Your attention to my concerns, your overall thoughtfulness and procedures end results have made the experience an uplifting one.
N. A., Houston, TX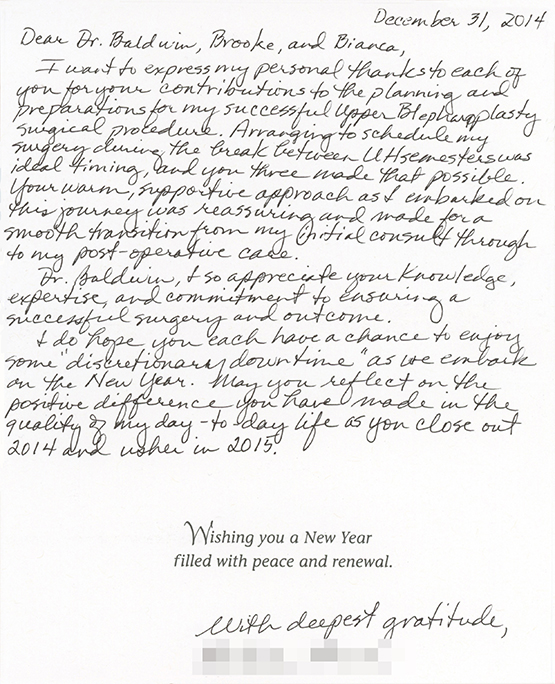 Face Cosmetic .
12.31.2014
Dear Dr. Baldwin, Brooke, and Bianca,
I want to express my personal thanks to each of you for your contributions to the planning and preparations for my successful upper blepharoplasty surgical procedure. Arranging to schedule my surgery during  the break between UH semester was ideal timing, and you three made that possible. Your warm, supportive approach as I embarked on this journey was reassuring and made for a smooth transition from my initial consult through to my post-operative care.
Dr. Baldwin, I so appreciate your knowledge, expertise, and commitment to ensuring a successful surgery and outcome.
I do hope you each have a chance to enjoy some "discretionary downtime" as we embark on the New Year. May you reflect on the positive difference you have made in the quality of my day-to-day life as you close out 2014 and usher in 2015.
Wishing you a New Year filled with peace and renewal.
With deepest gratitude,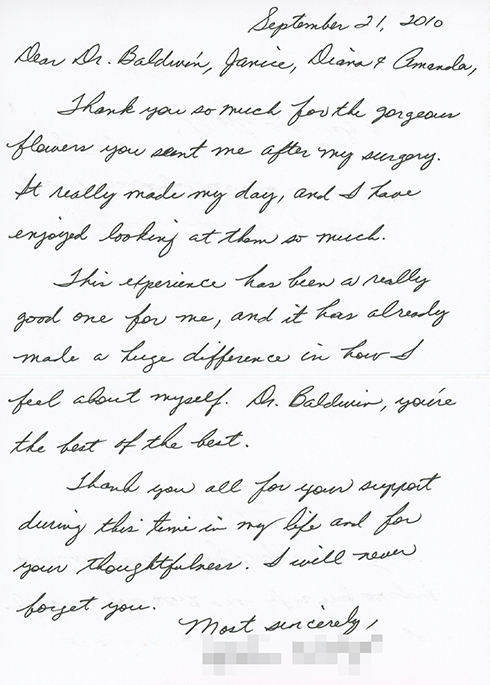 Face Cosmetic .
11.20.2015
September 21, 2010
Dear Dr. Baldwin, Janice, Diana & Amanda,
Thank you so much for the gorgeous flowers you sent me after my surgery. It really made my day, and I have enjoyed looking at them so much.
This experience has been a really good one for me, and it has already made a huge difference in how I feel about myself. Dr. Baldwin, you're the best of the best.
Thank you all for your support during this time in my life and for your thoughtfulness. I will never forget you.
Most Sincerely,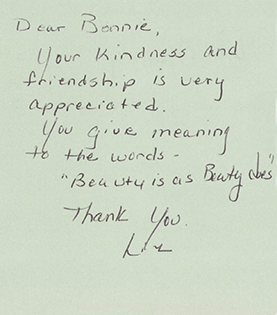 Face Cosmetic .
11.18.2015
Dear Bonnie,
Your kindness and friendship is very appreciated. You give meaning to the words – "Beauty is as Beauty does"
Thank you
Face Cosmetic .
11.18.2015
Dr. Baldwin
I  
my lips
they are beautiful!
Thank You
Thank You
Thank You
Thank You
4-15-04