 Cosmetic Body .
11.12.2015
My self-esteem is at an all time high. I have no problem wearing a bathing suit. What a wonderful feeling.
D. L., Houston, TX Cosmetic Body .
11.12.2015
I want to thank you deeply. You have made a big difference in my life
T.A., Pasadena, TX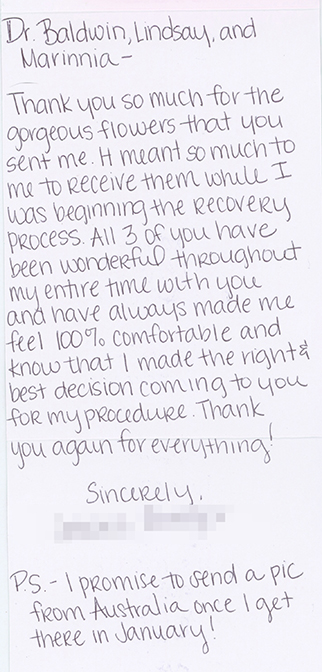 Cosmetic Body .
11.12.2015
Dr. Baldwin, Lindsay and Marinnia,
Thank you so much for the gorgeous flowers that you sent me. It meant so much to me to receive them while I was beginning the recovery process. All 3 of you have been worderful throughout my entire time with you and have always made me feel 100% comfortable and know that I made the right best decision coming to you for my procedure. Thank you again for everything!
Sincerely,
P.S. – I promise to send a pic from Australia once I get there in January!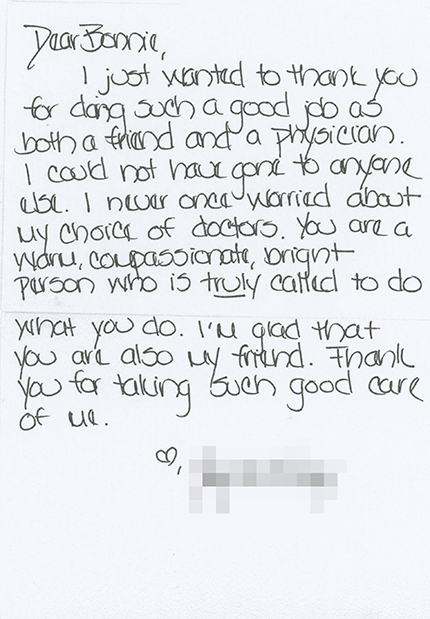 Cosmetic Body .
11.23.2015
Dear Bonnie,
I just wanted to thank you for doing such a good job as both a friend and a physician. I could not have gone to anyone else. I never once worried about my choice of doctors. You are a warm, compassionate, bright person who is truly called to do what you do. I'm glad that you are also my friend. Thank you for taking such good care of me.

Cosmetic Body .
11.20.2015
Dr. Baldwin is an excellent doctor who gave me confidence from the start! All the details to my surgery were explained in detail. Definitely one of the best decisions of my life!
Thanks to all the great staff!