 Breast Reconstructive .
08.08.2017
Dr. Bonnie Baldwin. She did my friend's daughters reduction and my lift and implants. She is wonderful! The anesthesiologists were fighting over who got me the day I had surgery and the one who ultimately ended up working my surgery told me they always fight to be the one with her because she's the best doc-she does exquisite work and her patients always do so well. I think when the people that work with a doc says she's the best it says a lot. She is incredibly caring and kind. I have minimal scarring and she took great care to have me look natural. As for the reduction she did on my friend's daughter—she was just 18 and Bonnie did such a beautiful job you can't even tell she had a reduction. I love referring to her … she's my fav doc ever … she also does my
botox … she's a goddess …
A.S. Breast Cosmetic . Breast Reconstructive . Cosmetic Body . Face Cosmetic .
08.08.2017
Dr. Baldwin and the whole staff are so friendly and caring. They do everything they can to make your whole experience easy. I have recommended Dr. Baldwin to four of my friends. They asked for her name after seeing my work and hearing about my experience.
B.P. Breast Cosmetic . Breast Reconstructive . Cosmetic Body . Face Cosmetic .
08.08.2017
I could not be happier with the outcome of my procedure and the professionalism of the Dr. and staff. I will refer her every chance I get.
P.H.
Breast Reconstructive .
11.12.2015
Dr. Baldwin is Amazing! In my particular case she helped me in redirecting what was a traumatic experience. Once my Breast Cancer was diagnosed, she acted as an educational guide as well as an artist to resculpt my body into a work of art that was then better than it had ever been; at the same time she held my hand and offered me hope in my journey with cancer.
In street-speak: "She's the bomb"!
R.T., Houston, TX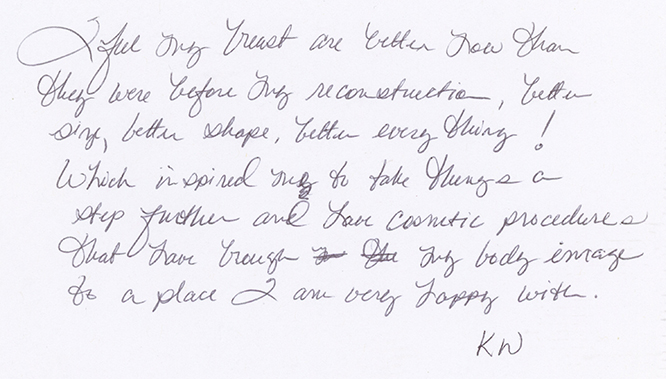 Breast Reconstructive .
11.23.2015
I feel my breasts are better now than they were before my reconstruction, better size, better shape, better every thing! Which inspired me to take things a step further and love cosmetic procedures that have brought my body image to a place I am very happy with.
K.N., Houston, TX