 Breast Cosmetic . Breast Reconstructive . Cosmetic Body . Face Cosmetic .
08.08.2017
I could not be happier with the outcome of my procedure and the professionalism of the Dr. and staff. I will refer her every chance I get.
P.H.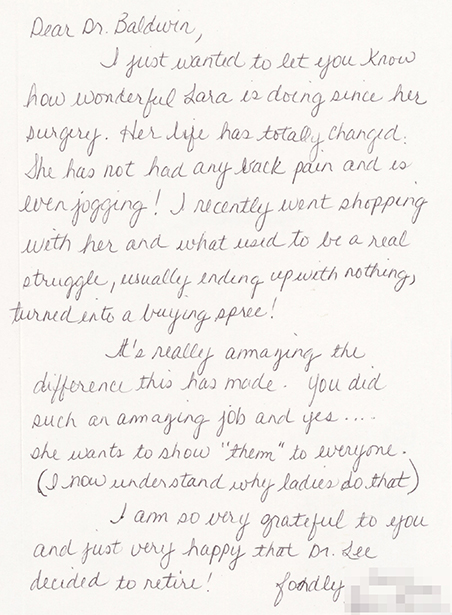 Breast Cosmetic .
11.12.2015
Dear Dr. Baldwin,
I just wanted to let you know how wonderful my daughter is doing since her surgery. Her life has totally changed. She has not had any back pain and is even jogging! I recently went shopping with her and what used to be a real struggle, usually ending up with nothing, turned into a buying spree! It's really amazing the difference this has made. You did an amazing job and yes…she wants to show 'them' to everyone (I now understand why ladies do that). I am so very grateful to you!
P. H., Houston, TX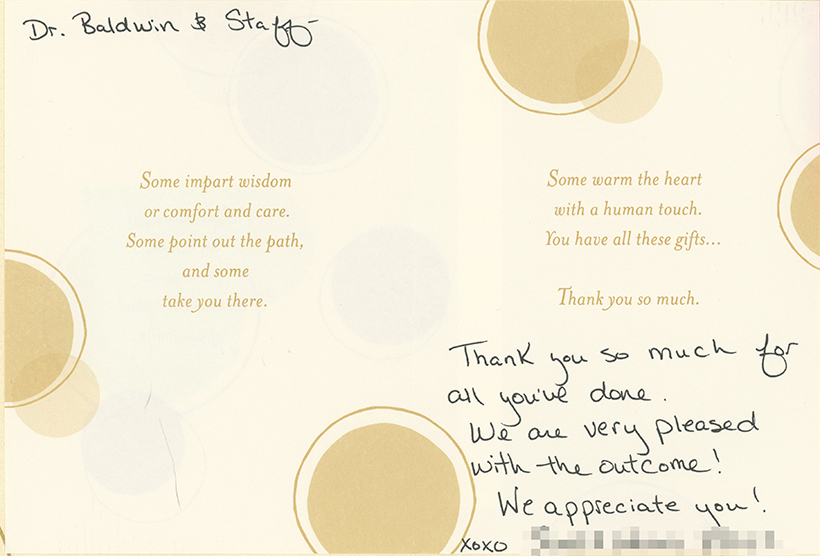 Breast Cosmetic .
11.23.2015
Dr. Baldwin & Staff –
Thank you so much for all you've done. We are very pleased with the outcome! We appreciate you!
xoxo
Breast Cosmetic .
11.20.2015
Dear Dr. Baldwin & all the girls!
I just wanted to write you and tell you a long overdue thank you for everything you all did for me last year. It has been a life changing experience to say the least! If you ever need anything or if I can do anything for you, please let me know!
Regards!

Breast Cosmetic .
11.20.2015
I was never afraid of having the surgery after my initial appointment because Dr. Baldwin put ALL of my fears at ease. I have already referred one person and will continue to do so.
Thank you!!