Breast Cosmetic
/ 11.20.2015
I was never afraid of having the surgery after my initial appointment because Dr. Baldwin put ALL of my fears at ease. I have already referred one person and will continue to do so.
Thank you!!
Breast Cosmetic
/ 11.20.2015
Excellent communication and information. Really listened to what I wanted and am thrilled with the results. Thank you!
Breast Cosmetic
/ 11.20.2015
I have already recommended you to several people. I so appreciate the time Dr. Baldwin spent on the phone with me assuring that I understood and was comfortable with my implant size. Lindsey was/is always professional, smiling and comforting.
I like the feel of your office setting. I never feel like it's a factory and I'm just a number. The personal feeling, like I'm the only patient you have that day, means a lot. Thank you and your staff for everything.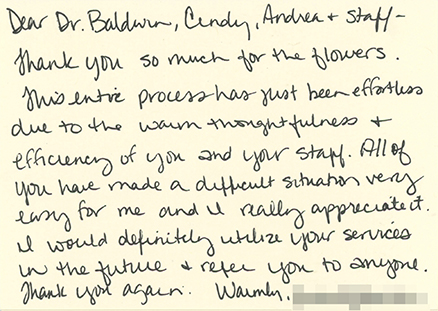 Breast Cosmetic
/ 11.20.2015
Dear Dr. Baldwin, Cindy, Andrea & Staff –
Thank you so much for the flowers. This entire process has just been effortless due to the warm thoughtfulness & efficiency of you and your staff. All of you have made a difficult situation very easy for me and I really appreciate it. I would definitely utilize your services in the future & refer you to anyone. Thank you again.
Warmly,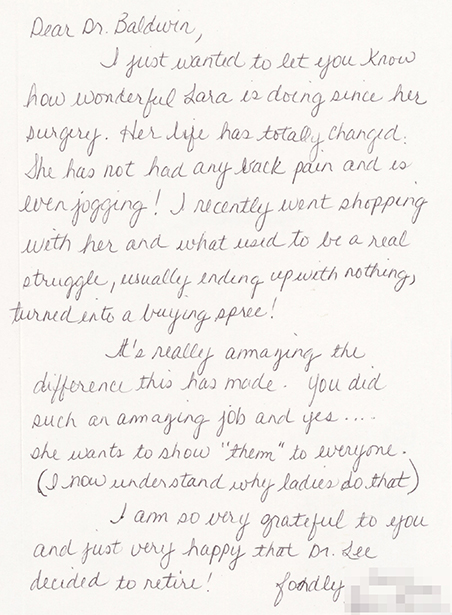 Breast Cosmetic
/ 11.12.2015
Dear Dr. Baldwin,
I just wanted to let you know how wonderful my daughter is doing since her surgery. Her life has totally changed. She has not had any back pain and is even jogging! I recently went shopping with her and what used to be a real struggle, usually ending up with nothing, turned into a buying spree! It's really amazing the difference this has made. You did an amazing job and yes…she wants to show 'them' to everyone (I now understand why ladies do that). I am so very grateful to you!
P. H., Houston, TX